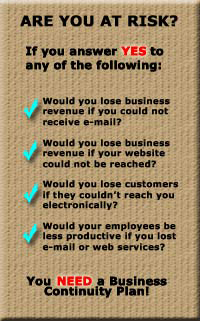 Let's be honest...

Whether you call it:
Web Business Continuity Planning
Contingency Planning
Systems Assurance Plan
Recovery Planning
They are all euphemisms for Disaster Recovery.If your business would be seriouly affected by loss of your web presence (E-mail and Website), it would be prudent to prepare a plan to provide these services in the event of an extended outage.

Certainly, the first thing that comes to mind in continuity planning is backing up the website. This is an appropriate starting point, but it doesn't restore your business' internet presence, in and of itself.

Consider the types of failures (disasters) that could keep your business out of service for extended periods. First, you might have a data corruption on the server (disk failure, database failure, administrative error, sabotage, etc). Or worse, the server (or entire building that houses it) could be destroyed. Lastly, portions of the Internet might be unreachable due to physical, hardware, and/or software problem (common carrier failures, denial of service attacks by hackers, etc.)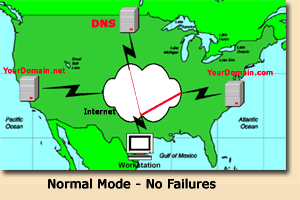 For guaranteed continuity, we recommend that you provision a duplicate website and e-mail in another server, in another part of the country, on another Common Carrier's network.
MouseOver the hyperlinks to update the diagram.
In the example at the left, Normal web services for YourDomain.com is provided by a server on the East Coast. Then in the Alternate/Mirrored site shown as YourDomain.net (or something similar) serves as your backup site with everything redundant. Your active site is backed up to the mirror site as often as required for your needs (usually daily, but could even be many times per day to capture database transaction data).
Then in the event of your server being unreachable, the system is configured to the Failover mode by directed the Internet Domain Name Service (DNS) to the mirrored server. In most configurations, DNS is co-located with the webserver. We have separated it to a third location as additional protection.
While this change-over may take several hours to propagate the Internet, you may advise your most critical customers that they may use the alternate domain in the interim.

Simply notify your Foxstone Sales Representative and your back-up system can be on-line within 10 working days. Foxstone has the server, networks, and Name services staged and ready to meet your needs.